Taebaeksan National Park
Home
Culture and Tourism
Taebaeksan National Park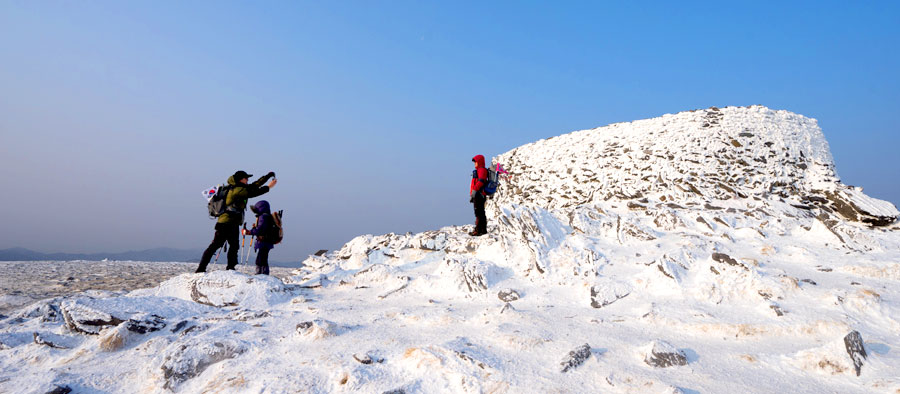 Taebaeksan Mountain consists of Janggunbong Peak to the north (1,567 m), Munsubong Peak to the east (1,517 m), and Busoebong Peak (1,546 m) between Yeongbong Peak and Munsubong Peak, centered on Yeongbong Peak with Cheonjedan Altar.
Anyone can easily climb Taebaeksan Mountain as it has a small number of rock walls as well as a gentle slope. Alpine plants grow naturally at the top and the azalea habitat welcomes mountain climbers in spring. During summer, dense forests and clean, cold water in the valley help visitors to beat the summer heat. In fall, colorful autumn leaves display wonderful scenery, and in winter, spreading yews covered in snow displays snowy scenery. It is composed of soil mountain having masculine dignified grandeur and broad-mindedness.
Taebaeksan Mountain also boasts a view of the East Sea on a fine day, and the sunrise and sunset enjoyed from the peak are like heaven.
Eutteumsu Yongjeong Well and Yongdam are also located at the top.
The area of 17.44㎢ was designated as the national park on August 22, 2016. Village for lodging in private homes, lodging facilities, restaurants, and campgrounds are prepared within the collective facility district in Sodo. There is Taekbaek Coal Museum that glances through the history of coal. In winter, a large sledding slope opens.
Hiking course
Yuilsa Temple: 2 hours (Yuilsa Temple Entrance → Yuilsa Temple → Janggunbong Peak → Cheonjedan Altar) 4 km
Baekdansa Temple: 2 hours (Baekdansa Temple Entrance → Banjae → Manggyeongsa Temple → Cheonjedan Altar) 4 km
Danggol: 2 hours and 30 minutes (Danggol Plaza → Banjae → Manggyeongsa Temple → Cheonjedan Altar) 4.4 km
Munsubong Peak: 3 hours (Danggol Plaza → Jedanggol → Munsubong Peak → Cheonjedan) 7 km
Geumcheon: 4 hours (Geumcheon → Munsubong Peak → Busoebong Peak → Cheonjedan Altar) 7.8 km